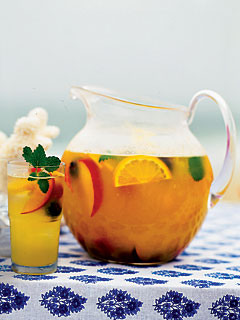 (I did not take this picture, however it DID look this pretty!)
I made a white wine sangria for my garden party on Saturday. I've made the red one before so I did it pretty much the same way except white wine instead of red. Here's the recipe:
1 orange, sliced
1 lemon, sliced
1 peach, sliced
4 strawberries, sliced
(you could throw any number of fruits & berries in here)
1 bottle of white wine
1 tbsp sugar
2 ounces cointreau
1 bottle ginger-ale
Mix the wine, cointreau and sugar together in a pitcher. Slice the fruits, squeeze the juices into the pitcher then throw the fruit in the pitcher as well. Leave it in the fridge overnight. When serving, mix in some ginger-ale and ice.
MY REVIEW:
This was great! A good way to use up all our bottles of wine. I might still prefer the red version of this but white is great as well. It's definitely sweeter & very refreshing.
EVERYONE ELSE'S REVIEW:
My mom and Jason both preferred white over red!
... and it was my birthday on Sunday and my mom made this beautiful cake!